I'm pretty low risk, do I need a bone density test? What would I do with the results?
I would suspect that at least half of you have had a serious bike accident, some even with a broken bone.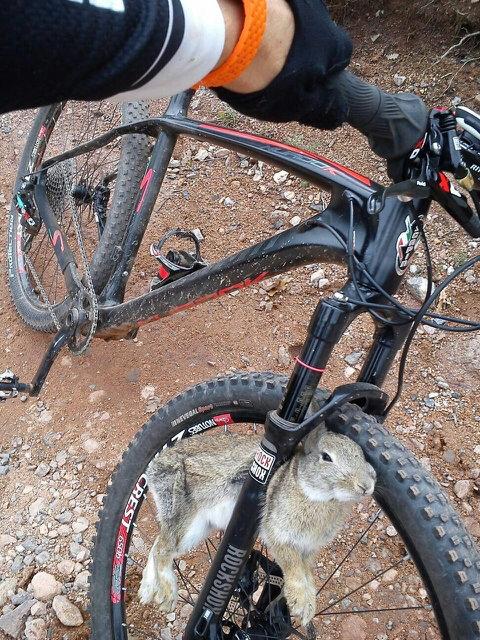 Watch me pull a rabbit out of my.....spokes?
_________________________________________
Bone density tests help to determine if a patient has the diagnosis of osteoporosis, a condition that causes thinning of the bone. There are specific criteria that are used to determine when this test is appropriate.
Having an abnormal bone density test may guide treatment, but the treatments often involve medications that can have significant side-effects.
Patients who don't need a bone density test, may be best served by waiting until they meet appropriate criteria for the test.
What is Osteoporosis?
Osteoporosis is a condition that weakens the bones of your skeleton. Bones, like other tissues in your body, are living structures that constantly are changing. New bone is made and old bone is taken away. Osteoporosis develops when the pace of new bone formation cannot keep up with the loss of bone.
Current Recommendations

- The U.S. Preventative Services Task Force recommends a bone density test at least once for all women age 65 and older.
Who should have a bone density test?*
all postmenopausal women under age 65 who have one or more additional risk factors for osteoporosis (in addition to being postmenopausal and female)

all women age 65 and older regardless of additional risk factors

postmenopausal women who sustain a fracture

women who are considering therapy for osteoporosis if bone density testing would facilitate the decision

women who have been on hormone replacement therapy (HRT/ERT) for prolonged periods
Using Osteoporosis Drugs:
Many people think of bone as a structure, like the frame of your house or the chassis of your car. But bone is a living tissue that is constantly changing. New bone is always being made, and old bone taken away. Osteoporosis develops when the rate of bone loss exceeds the rate of bone formation.
Treatment of osteoporosis focuses on trying to increase the rate of bone formation and decrease the rate of bone loss. This can be accomplished by different methods including exercising, stopping smoking, eating right, and taking medications.
Calcium
Calcium is a mineral found most abundantly in our bones. It's one of the building blocks of normal bone, yet many people do not injest enough to maintain healthy bone stock. With society living longer, this creates a significant problem if the bone loses it's strength and becomes susceptible to fracture. All of us should consume calcium every day and a small number of need extra, possibly in the way of some kind of supplementation if one's diet is insufficient. There are both dairy and non-dairy forms of calcium. Some have previously recommended larger doses of calcium but this has come under fire recently and may even be harmful.
Vitamin D
Vitamin D works together with calcium to help maintain normal bone health. Vitamin D is necessary for your body to absorb calcium; even if you are ingesting calcium, your body may not be able to absorb it if you don't also have enough vitamin D.
Children who do not get enough vitamin D have a condition called rickets, and adults who don't get enough vitamin D have a condition called osteomalacia.
Bisphosphonates are a type of medication known as antiresporptive medications. These medications prevent bone loss by inhibiting the normal function of cells called osteoclasts. These are the cells responsible for removing old bone. When osteoclasts are working harder than the cells making new bone, the development of osteoporosis can be accelerated.
Calcitonin is a hormone produced in your thyroid gland. Calcitonin is naturally made in your body when blood calcium levels are high. This tells your body to retain calcium within the skeleton, rather than use calcium in the bone to replenish the calcium in the bloodstream. Calcitonin works by limiting function of the osteoclast cells that consume bone to release calcium in the bloodstream.
Calcitonin is usually administered by a nasal spray. Side effects of calcitonin include runny nose, headaches and nose bleeds.
Hormone Therapy/Estrogen:
Estrogen therapy (ET) or hormone therapy (HT) are effective treatments for preventing bone loss and reducing risk of fracture. ET has been shown to cause an increased risk of uterine cancer, and is therefore used alone only in patients who have had a prior hysterectomy. In others, combination estrogen and progesterone treatment (HT) is used.
Concerns about increased risk of breast cancer, stroke, and blood clots have surrounded the use of these medications for osteoporosis. Therefore, the FDA recommends the use of ET/HT only if other medications cannot be used and there is a significant risk of osteoporosis.
Bone Forming Medications:
A new medication is being used to help the body make more bone. The medication called teriparatide (Forteo), is a synthetic version of parathyroid hormone. Parathyroid hormone is your body's internal signal to make more bone. Given by injection, teriparatide stimulates the body to increase the amount of bone formation
The take away here is to be aware that the problem exists, may exist in you, and at least be aware of the diagnosis and that there are treatment options. Happy Training.
Photo credit: Google.com
Much of this info is taken from Ask.com, about.com and a variety of other sites